Therapist
Why I Became a Therapist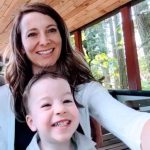 I have always loved the field of psychology and completed my Bachelor of Arts degree in Psychology at the University of Alberta several year ago. After going through a divorce, I recognized that along with the pain came an opportunity to make my life my own. I completed a Master's Degree in Counselling Psychology and was delighted that my passion for the work only intensified with the completion of my studies. I loved working with individuals, but I recognized that many of my clients were struggling in their relationships and I wanted to be able to help them with that.
Having suffered my own relationship difficulties, I was passionate about finding real solutions for my clients. I was also a new mom, and a step-mom, living as part of a complex blended family, and I was eager for guidance on how to best navigate my new world. Along my way, I found Sue Johnson's Emotionally Focused Therapy (EFT) and I fell in love with the model. It became clear that becoming an EFT therapist was my next goal. I was enrolled in post-graduate EFT training even before my graduation was finalized.
To date I have taken training in Emotionally Focused Therapy to work effectively with couples, intermediate and advanced training to work with families, and specialized training to work with individuals who have experienced trauma. I continue to advance my skills with the model through further training, active supervision, and consultation.
I truly love my work; it has made a tremendous difference in my life and in the lives of my clients. Emotionally Focused Therapy can transform the life of the individual, couple, family, and the generations of families that come after them. I understand how hopeless it can feel when life gets off track and I have the tools to help you find your way again.
"In a group of studies Mikulincer showed that when we feel safely connected to others we understand ourselves better and like ourselves more.

– Sue Johnson
Education & Credentials:
License: RCC # 18455
License State: British Columbia
License: CCC # 07339
Licensing State: Canada
Practicing Since: 2021
Education:

Master of Arts in Counselling Psychology from Yorkville University
Bachelor of Arts in Psychology from the University of Alberta
Post graduate training in Emotionally Focused Individual, Couples, and Family Therapy